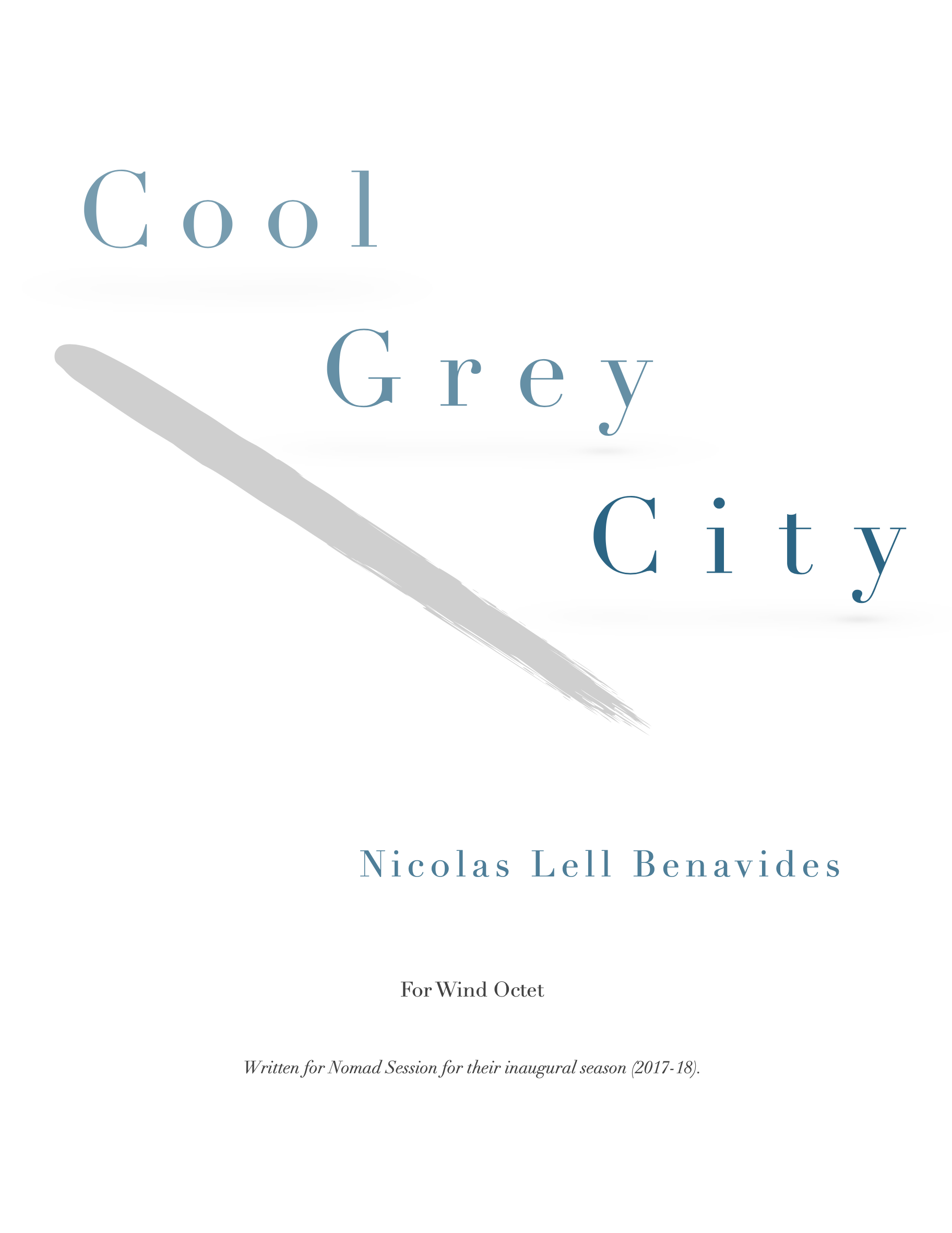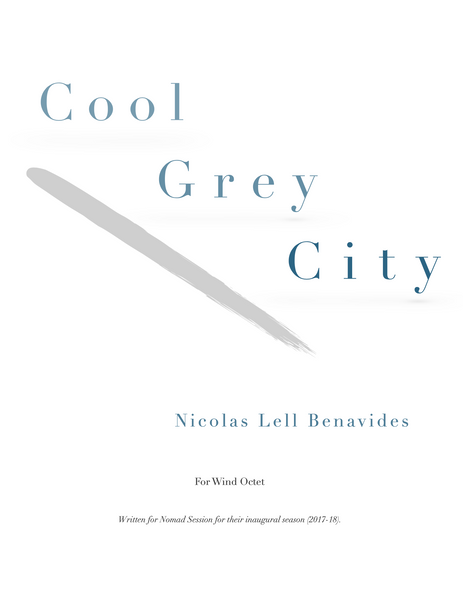 Cool Grey City - for Chamber Ensemble
(Score and Parts)
Instrumentation:
Flute
Oboe
Clarinet Bb (dbl Bass Clarinet) Bassoon
Horn
Trumpet in C Trombone
Tuba
Composer's Note
It's true that in San Francisco a large number of people who live here are not actually from here.I am one of them, but there's something about the promise of California and San Francisco in particular that is so attractive and comforting. This is a city of mystery and of newcomers.
While reading Gary Kamiya's "Cool Gray City of Love" I rekindled my love of wandering and spent countless hours retracing some of his steps and finding neighborhoods I had never visited before. The book takes its name from a poem written in the early 20th century by George Sterling, "The Cool, Grey City of Love." The fascination with San Francisco has been a reliable constant.
The book is equal parts adventure, history lesson, and memoir. Pretty soon I found myself wanting to stray from his suggested locations and find those of my own. It amazed me that the city maintains hundreds of tiny plots of land for public use. Some are meticulously maintained parks, others are natural preserves, and others still are utilitarian staircases that allow people to move between streets faster than cars would allow. Many of these locations are no bigger than a suburban front yard, and it was clear to me that these locations are by and for locals. I decided to focus on encouraging my fellow residents to get up and explore. Golden Gate Park and Dolores Park are lovely, but what about the Corwin Community Garden with its native flora, Ina Coolbrith with its stunning view, or Saturn Street Steps with its resident cat Buzz Saturn? These places are personal and enchanting, and most San Franciscans miss out on this explorer's dream.
The work is intended to be presented alongside video projections and audio taken from the local parks, and the goal is to encourage viewers to find their own slices of paradise. It's something that's inherent to a small, packed city with lots of walking paths. We can't all have yards, so we have parks that we share.
San Francisco has its problems: gentrification disproportionally affects the poor and minorities, the rising cost of living and propensity for technocrats to keep to themselves means the arts are becoming a thing of the elite, and the city is becoming increasingly homogenous in ethnic and career composition. That being said, it's a charming place that seems to always offer up the promise of the future.